SAY GOODBYE TOPAINFUL FEET!
When was the last time you had really comfortable sneakersthat you dont want to take them off even after work? You know the kind of comfort where you felt like you are stepping barefoot on a pillow.
Indeed. many surveys including Edition 1293" indicate that more than 72% of women say that they do not have suitable shoes. which causes ailments and physical pressures on a daily basis.
Specifically designed for plantar fasciitis & bunion feet! In fact. most feet problems including plantar fasciitis can be healed naturally with just normal stretches and exercises.
Even bodyweight distribution with orthopedic footbed.
Unique front air cushion

& wide round toe

for bunion.
4 air cushion
- highest in market
Perfect for any outdoor activity

It's so annoying having sore feet and heels after a long day at work. out shopping with friends. or simply walking your dog. Imagine never having to struggle with achy feet again with Thea Sneakers providing you with the comfort and support you need all day long.
Special Designed Orthopedic Footbed
Distribute Pressure Evenly
Correct Poor Posture
Realign skeleton
New Adaptive Sole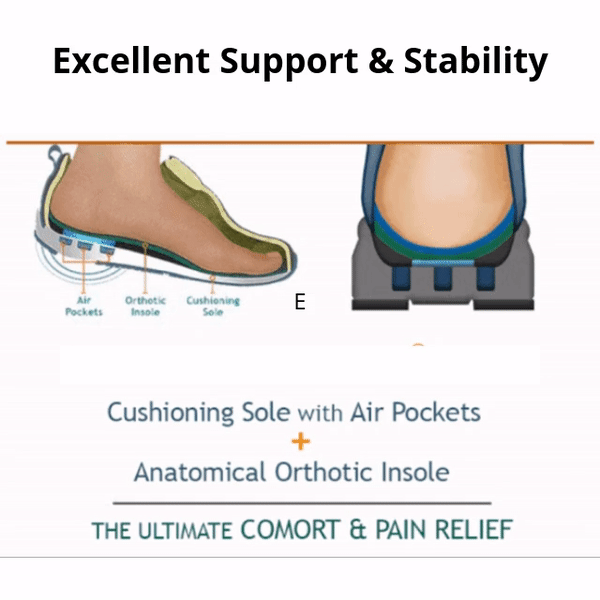 The innovative ortho-cushion system with premium orthotic insole and ergnomic cushioning sole soften impacts. making every step you take soothing with comfort.
Round Wide Toe Designed to Sooth Bunion

Thea sandals are non-slip and anti-skid providing great traction and grip with no slipping or sliding.
ENJOY ANY OUTDOOR ACTIVITY
Ultra-light and flexible with an easy slip-on design that's both waterproof and durable so you'll enjoy your favorite activity comfy and pain-free.
Perfect for long days on your feet. walking your dog. or any number of daily activities like nursing. camping. fishing. gardening. shopping. cooking. and traveling!
Size Chart (US WIDE)
Please Note: Due to high demand for our Thea Comfy Shoes. we are almost out of stock! Order quickly before it is sold out!