If you are a little fat, please choose one size up
ARE YOU TIRED?
OF FIGHTINGwITH YOUR BRA?This Front Hook Brals The Smart Solution!
lntroducing the new and improvedversion, now called Posture Comfort Bra!
NOW WITH:
Higher quality material! Prevent skin abrasion
7 Colors can be chosen!
Widened shoulder straps,Comfortable and wrinkle free
No steel ring,Comfortable and no indentation
Button design to prevent underwear from slipping
THE 6 MAIN SECRETS BEHINDTHE PERFECT BRA DESIGN!
FRONT HOOKS! PoSTURE SUPPORT!
Super s-t-r-e-t-c-h material self-adjuststo periodic changes!
Lifts and shapes your bust to perfection! Easy front hook closure!
Wide straps relieve shoulder strain! back for posture correction!
Soft material for all day comfort!
New breathable material, better perspiration and breathability
Provides instant lift for a beautiful bustline!.
Wonderful super s-t-r-e-t-c-h material makesit really comfortable to wear!
Cups that self-adjust to periodic changes inyour body!
Feminine and luxurious lace material!
Hooks in the front make it easy to slip on and off!
X-shaped reinforcements in the back provideperfect posture and support!
Extra-wide shoulder straps distribute theweight - easy on the shoulders!
Relieves strain on your back!
Sculpting cups that prevent a sagging bust -always a perfect fit!
So soft - wonderful to wear all day long!
Lifts and shapes your bust to perfection!
No painful and uncomfortable underwire!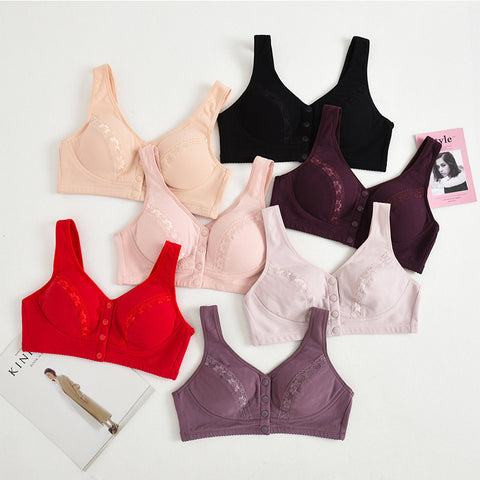 Available in 7 colors!
Cradles your bust in pure comfort!- Breathable material!